LUXlife Magazine named 4Life "Best Immune System Supplements in the United States"

Salt Lake City, Utah (December 6, 2019) – In the first quarter of the year, LUXlife Magazine named 4Life "Best Immune System Supplements in the United States."
In the last quarter, The Golden Bridge Awards recognized Pre/o Biotics® with Gold for the R&D Team's University of Validation of Delivery and Results. Judges of this award survey every major industry throughout North America, Europe, the Middle East, Africa, Asia-Pacific, and Latin America. Dr. Brent Vaughan, Vice President of Research and Development, accepted the trophy at a recognition ceremony in San Francisco.
Vaughan: "On behalf of our Founders David & Bianca Lisonbee and President & CEO Danny Lee, I'm honored to accept this Gold Golden Bridge Award for our product, Pre/o Biotics. This is an important distinction for our customers and for our company."
In New York City, The American Business Awards honored 4Life with a Stevie Award for Best New Consumer Products.
Finally, the Granite School District recognized Foundation 4Life with a Giving Hand award for the company's commitment to service.
4Life has offices in 25 markets to serve a global network of independent distributors and their customers.
Corporate USA Today Names 4Life Best Supplement Provider
Salt Lake City, Utah (April 18, 2018) – Corporate USA Today named 4Life Research™ the 2018 Best Health and Fitness Supplement Provider in the United States. This award distinguishes 4Life among the top-ranking supplement providers in the world.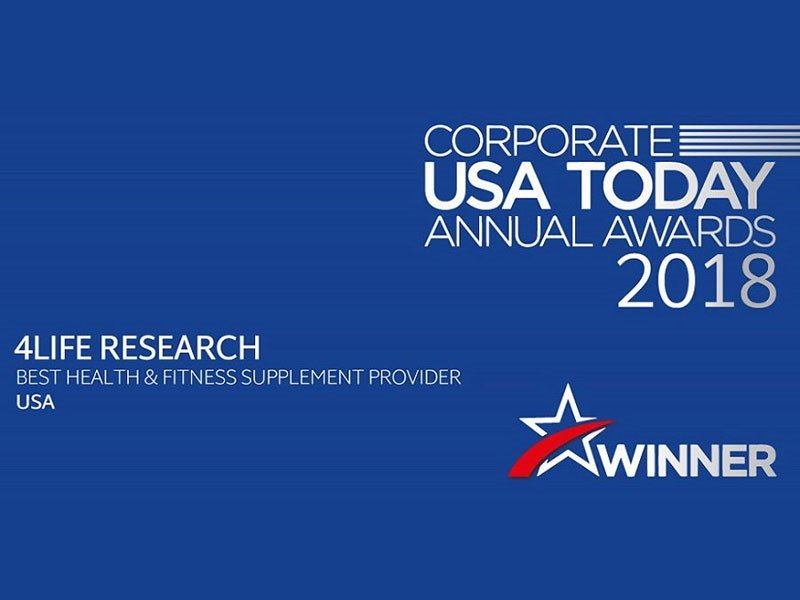 President and CEO Danny Lee: "We feel humbled by this distinction and proud of our legacy of innovation in supplementation. This distinction by Corporate USA Today underscores the efforts of our Research and Development and Quality departments and David Lisonbee's long-standing commitment to scientific pursuits. We are proud to carry forward his emphasis on superior formulation in support of our worldwide distributors."
The Corporate USA Today Annual Awards serve as a benchmark for distinguishing industry leaders. Winning companies consist of high-caliber organizations that provide value, exceed customer expectation, and conduct business with the highest degree of integrity.
"4Life™ – RANKED TOP 10 BUSINESS IN THE WORLD"
As reported in the Direct Selling News (DSN) Global 100 issue, 4Life enjoyed more than 100% growth between 2009 and 2016. 4Life ranks in the top ten companies in the world with 119% growth.